"I'm Even Younger Than 20 Years Ago. It's Priceless! "

- Lan N. (Fremont, CA, USA)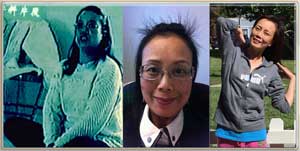 I have been an Qinway student since 1998 and my rare diabetes got great healing. But I stopped long time ago while my life got busier. In 2014, I experienced severe problems and Menopause symptoms and I decided to go back to take Qinway retreat and to do long term Qinway Bigu homework. During the Bigu time, my menopause symptoms were gone, but I began to lose more hair, I could even see the spots bold on my head. I contacted Grandmaster, and she told me that I was in the Bigu rejuvenation process and later the new hair would grow out. I trusted Grandmaster and kept following her homework ...Surprisingly, before Christmas, my new hair started growing out and sticking into the air that made my head looking so fluffy and I felt so energetic. My friends and coworkers were so surprised! (see above my pictures)

Through the Grandmaster's individual remote healing and direction, I kept doing Bigu homework for years. In April 2016, I took the picture and compared to my old picture in 20 years ago. Surprisingly again, my whole body got rejuvenation so significantly with amazing energy (see above picture, current at the right side, 20 years ago at the left side)! I become a young girl even I'm 50 years old now, and I'm even younger than 20 years ago. This is a miracle of mankind, isn't it? Thank Grandmaster for your fully support!