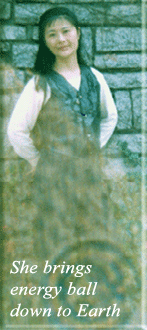 Founder Qin with a
higher dimension energy ball

Founder's Biography
- About a Unique Founder & Her System Technology
Founder Qin was born with inherent talents, understanding & special abilities which include a 'high wisdom' level of comprehension for the past and present.

By the age of seven, among other things she was able to 'listen' to a classical reading , or with one look photo-read an entire page with deep understanding of the mystical knowledge in the technology field contained therein.

Through self teaching, she was able to energetically change the nature of an object instantly (including the human energy field) such as remove a cloud in the sky and invite the Sun to come out. Other matters included sensing, prediction etc. Yet she chose to release all of her superior conditions and position in life in exchange for much hardship, in order to seek out and visit the masters who were hidden deep in the mountains.

There are only close disciples of a few famous masters who remain hidden deep in the mountains, and some masters will only pass on the knowledge to a grandson rather than a son.

Having a history of peer reviews, Qin was among a handful with special ability potential (one of the most perfect) and for more than 20 years she has manifested many life miracles for her students from around the globe.

With a modern background in high education and culture, Qin was an important member of the Academic Council of Chinese Human Science and served as the Special Senior Advisor in many sectors. With her high accuracy on future predictions, the late Chairman of China's National Defense Science & Technology Commission, (General Zhang Zhenhuan) personally wrote an inscription, naming her "Heavenly Master Zhang" and praising the Qinway culture system as a perfect example using a classic combination of traditional and modern advanced science.

During this time General Zhang not only sponsored Qin's research during the most difficult years but also wrote her letters of encouragement. Even the Health Minister, Cui Yueli and Dean Feng Lida personally met with Qin showing her much respect.

During Qin's long term spiritual practice and retreat in the mountains, she wrote the "Theory of Longevity Law" which was connected to the High state universal energy signal. This shocked the academic circles in Beijing (capital of China) and the material was published during the year, empty potential scientific journals in China.

While immersed in the 'three laws of life', Qin could feel the significance of the verification of theory and practice which really needed to confirm each other. In particular, while attending the Beijing University and Qinghua University (in Beijing) Qin could feel the suffering of others with her karma . This prompted her to create and introduce the Qinway revolutionary high tech, modern cultural system which is connected to the high-energy of the of the universe for detoxification and energy infusion due to its rapid, fundamental and miraculous results. It was at this time that Qinway became famous in Beijing.

In 1997 when Qin was invited to lecture in San Francisco (United States) she was issued a 'green card' from the U.S. government for her special talents and began residing in America. Qin, now acknowledged as a 'High Master' in the U.S. received a lot of students, many who themselves were masters from all sects. These students participated in numerous advanced Qinway projects and comments were many. "A True Master!" " It really works!" etc. etc.

Receiving much recognition and world class awards, many articles were published about her work in American newspapers and magazines, and the Qinway system was verified due to the unique effectiveness of these advanced scientific methods.

The students came from all walks of life including children and adolescents who, after personal experience from attending her special retreat program, even ten years later have proven a significant achievement has been reached which delights many parents.

Qin, (a very rigorous scholar herself) pays close attention to combining theory with practice while paying great respect to the classical truth and consideration to modern karma.To ensure meticulous practical cases correspond to each other and be verified truthfully and harmoniously, Qinway modern studies are taken on an individual case history basis one by one. Thus the major characteristics of the Qinway system are successfully preserved; unlike some scholars who only talk about theory or some masters who are knowledgeable yet totally unaware that the student does not understand which makes makes for a defective working system.

Qin is a grandmaster who does not seek fame, (which is a disturbance to her) rather she is seeking the fine and sharp. In every case she studies not one pattern but many, researching into the special high energy field. In the absence of any government or group funding or assistance, she has never given up looking for confirmation of the unique research for the truth of life. Nothing has prevented her top level search of a massive human life study. This is indeed a very rare world-class professional who seeks confirmation of the unique mystery and truth of life.

To this end, she has quietly devoted and invested everything. ... her family, relationships, finances and most precious of all - time in her life.

While her research and practice spans many fields including but not limited to: astronomy, geography, chemistry, physics, optics, biology, Zen, Confucianism, Buddhism, Taoism, feng shui, literary arts, qigong health, medicine, pharmacology diet, numerology, color, forecasting, cooking and so many other extensive subjects versus surgery or gossip Ching diet etc. She is often accompanied by long-term loneliness and is puzzled by same. Grandmaster Qin's unique style of doing things, never following the crowd. Her rigorous work ethic, always seeking confirmation, more refinement to allow her designs for her students to receive great life transforming functions from the program. Every detail implemented way beyond the worldly level of technical knowledge shows how the energy and hard work are being put into a very specific practice.

Qin is ahead of her time, with a very classical yet highly modern consciousness, presenting a perfect messaging system - to seek the truth without sticking to any one particular pattern. This is what makes 'Qinway 'a unique, almost synonymous term in America.

In her very arduous effort to enhance body and soul evolution, Qin blazes new trails toward the human spiritual energy enlightenment. She is very versatile and creative, not dropping any religion, being unconventional, defying danger etc; her modern research and practice are still on the road of the midnight of this era which is very rare indeed.

Qinway has existed for more than 20 years now in spite of the many ups and downs. Always moving forward, yet without the support from - students, teachers and the karma friends with their personal experiences and dedication to understand. However the Qinway system which is still in its infant stage could have died a long time ago rather than be born a product of the 21st century due to the unselfishness and full support of Master Qin, and her practice and recognition of this technology.

Now she and her volunteer team are working to create a masterpiece which can be handed down and spread globally. Previously only the most advanced and high programs were for high -level professional training (tentatively named 'Qinway Modern Temple'). Founder Qin wishes to bestow this special gift to the human race before her Hermitage.

Qinway cultural system welcomes your participation and support with great virtue energy!