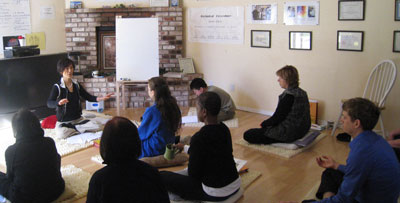 Live Report from the March Retreat
- March 12-15th, 2010. Ukiah CA (United States)

1. An "Outstanding" Snoring Student
It is the first day of class with students arriving from both domestic and international locations. Initially as the sleeping accommodations are assigned, one student confesses that he snores very loudly during sleep to which Master Qin responds " Don't worry, it will be treated."

Actually on the first night, in every room students were shocked by the loudness of this snoring which sounded as though 'mountains were shaking' ...

so loud in fact that in the middle of the night Master Qin decided to separate this particular student into a different room.

"I have always been afraid of sleeping alone in a separate space" whispered the middle aged man while clutching his own comforter.

"Do not be afraid, I will be with you" responded Master Qin.

The snoring continued like a buffalo 'roaring' down the mountain - 'surging' up and down with great intensity, pausing after each breath, then the nasty feeling of 'die in place at any time' during each moment... each second...

Mr M (from Chicago) had arrived at the retreat with high blood pressure, prostate problems, and an acute alcoholism problem, and even though he had been participating in a well known American spiritual program for treatment of same, it was the organization's founder - 'Steven Q' ( also a student of Qinway) who referred Mr M since as with severe cases like this, improvement in that particular program proved not possible.

It is now the third evening - March 14th, 2010. and the 'Isolation' room has been quiet the entire night. Surprisingly the 'Snoring' has disappeared and all the students are amazed!! Meantime (Mr M) has become ethereal and his connection to the 3.2D with each project is now confirmed at 100%!!
2. "Best Effort" from the Eldest Participant
Mr. H, who will be 67 years old later this year is accompanied by his wife after her high recommendation that he also attend. (She had already participated in the previous retreat last November.) After Master Qin describes how the five postures and the lotus position are the best to use, this student actually made every effort to sit cross-legged throughout the entire four day course!

For a young man to sit cross-legged is already not easy and takes practice. For a 'senior' student who has never taken this type of training, and particularly with a variety of elderly ailments this is definitely a test of will!

On several occasions Master Qin told him "You may sit in a chair in order to find the most comfortable state." yet he replied "I just want to try the best I can!!"
3. Youngest Participant with the Most Correct Answer!
Mr. A, 11 years old is the youngest repeat student. Last year there appeared an almost absent look in his eyes which has now been replaced with an incomparable bright and piercing inquisitiveness.

When Master Qin wrote on the blackboard a string of strange numbers and asked the students to submit their homework on time, except for A none of the participants had a clue as to what the numbers actually meant.

A raised his hand to say "This is because..." The answer was of course correct. Was that a coincidence or an opportunity?

This left an impression with Master Qin.
4. The Least Affluent Student Is the Wealthiest
Ms. M attended the previous retreat last November which also coincided with her sudden unemployment. She was emotionally and spiritually at her lowest point and in particular had some long- term accumulation of much of life's confusion and pessimism. This was when she noticed the 3.2 Dimension retreat was exactly what she really needed and strongly decided to use this time (opportunity) for a fundamental life change and energy recharge.

Since the previous retreat had resolved her suspected doubts, now with a brand new face she quickly found a new position where her new boss and colleagues all praise and encourage her for learning a new profession so quickly!

So... filled with confidence and smiles M decided to repeat the retreat again. She is like a sponge absorbing the Qinway unique system of nutrients.

By the fourth day at the end of the retreat section A, and her nostalgia for a long time at the display counter, she selected a lot of her favorite items.

"This retreat is the most valuable class where the products are more valuable than secular things! I am lucky! I am the richest because I have received the magic treasure to update my body and soul energy any time!"
5. The Most Mischievous Rebel
Mr. K arrives from Switzerland. Last June (2009) he participated in the retreat for the first time so he has already experienced Qinway's energized products and has requested the opportunity to return for this retreat. Back home he is a 'Systems Engineer ' and possibly due to his Swiss cultural background, his implementation of the homework; especially the 'universal channel' stabilization phase is often taken for granted in a somewhat self righteous manner...

One day in March this year he sent an email report stating he was very weak yet had followed each part of his homework assignment very well. Master Qin began to connect to the high universal energy signal while in Hawaii and she remotely sensed that Mr. K while in various places in Switzerland had made some very serious mistakes in his homework.

The energy signal indicated there were mistakes in five separate areas of the program yet Mr. K insisted he had not made any mistakes; not even little ones!! That was the rebel speaking and being 'naughty' by stating that he did his homework very well.

A few days later he met Master Qin at the retreat in California and during his individual consultation session the concrete implementation to several key points were discussed. This is where Mr. K discovered that where he thinks he is absolutely 'correct' is actually 'incorrect' and that is what had led to his own weakness!!

Deep from within his heart he admires and respects the strong remote sensing signal and extreme spirit of responsibility that Master Qin has and he acknowledges the timely and correct guidance with great gratitude...
6. The Most Stubborn with the Most Regret
Ms. V the retreat class host happened to receive a visit from her mother during the time of the retreat. From the very first day both daughter and grandson on several occasions invited her into the classroom to receive the benefit. Yet, due to the traditional concept of the elderly, along with some inherent negative credulous remarks, she flatly refused.

A few days later however, intentionally or otherwise she found herself in the classroom where she experienced a heightened sense of awareness increasing, especially with the high energy connection to the Wuji dimensions. She clearly felt she had personally received the Wuji dimension high-energy gift for herself! Obviously her attitude had changed but unfortunately she had lost the chance of participation during the first days of lectures and exercises.

After only four days she had lost 5 pounds in weight and she repeatedly exclaimed "I am so sorry! I really regret it..." if only she had entered into the experience earlier she could have obtained much more in depth benefit...

This is a very rare and unique retreat class and this year it may well be the last one!

It is rare yet not too late for anyone to accept the fortunate opportunity to enjoy longevity and quality of the immortal cultivation of spirit, mind and body. There is more energy and knowledge available than the normal low level of living in this life!!
7. The Oldest Students Gain the Latest Updates
The most senior students of this retreat were two repeat students from twelve years ago who had previously participated in a 24 hour retreat and now had decided to attend the March 72 hour retreat in order to verify for themselves the various 'treasures' and make themselves dazzle!

After the four days both students exclaimed " I will go back home and follow section B working with good digestion/absorption. Then there must be a solid change."

Upon leaving on the fourth day, these students were most satisfied with their progress...
8. Most of the Chorus
Every person in the retreat class was either strongly recommended to attend by friends, relatives etc. or were returning students which in itself is proof that the Qinway system is rare and unique. "Truth always rests in the hands of a few". These participants have either learned and tasted the sweetness from previous students while the repeat students were 'treasure hunting', each time exploring a different value within the unlimited harvest available to them.

Each day during the retreat the participants filled out a feedback form which showed us how different the perspective is in describing the uniqueness of the four day experience. Coming from each student, it is the same one voice that conveys the awakening of Buddhism within - the awakening of the information of spiritual life..., the awakening of the inner science of life. (not to be confused with any one religion) Qinway - in the shortest time possible is able to maximize the most intergrated system of the nature of body, soul and self - consciousness returning to the seeds...Read more great witness stories.