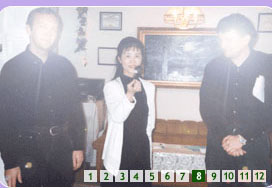 "You shall not show your special abilities too easily," this is one of Grandmaster Qinyin's usual teachings.
But in the first year when Qinway just moved to America, things seemed to be a little bit "off the chart"...
One day, two bulky strong Russian young men came to the door of Qinway Center.
"We read in the newspaper that you offer a Super Retreat here, and the Grandmaster has special abilities. We'd like to see and experience..."
"Grandmaster is not a magician or acrobat for playing show." J said.
The tall Russian guy said, "Actually we are interested in attending the Retreat."
"OK, don't argue," Grandmaster Qinyin gave two large steel spoons to these two Russian guys.
"Please try to twist them into spiral," Grandmaster said as she walked out of the inside room in white clothes and smiled to them.
Without hesitation, these two Russiam men used all their muscle power trying to twist the spoon, with their cheeks swelling out full with air.
To their dismay, the steel spoon didn't even budge.
"Give them to me," Grandmaster twisted the spoon into a spiral "S" shape in just a minute with only a few moves.
The two Russian men were astonished and wordless, "How could it be..."
"It was because Grandmaster used universal high energy on the spoon," J said.
J continued, "All right. You two can take a picture with Grandmaster."
Thus the above picture was born!
J then said, "Hi, didn't you say you are really interested in attending the Super Retreat? If so, I'd be happy to give you more info about the miracle Retreat."
However, the tall Russian guy said he had something else to do, and left.
The other Russian man stayed, and carefully listened to detailed explanations about the Qinway Qigong System and its great benefits for the body, mind and spirit.
He then registered on the spot for the next Super Retreat in half a month.
Three months later, he brought his wife Serena to attend the Super Retreat.
After he practiced the complete Qinway Retreat program, he was fully convinced of its great benefits.
He deeply believed that this is truly a Super Program connected with universal high energy!