Published in Awareness Magazine, Nov.-Dec. 2002
Qigong Master Brings Blessings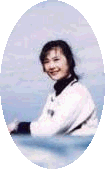 While visiting Unwilling-to-leave Quanyin Temple at Sacred Mt. Puto in April 2002 Qigong trip, Master Qinyin and her American Qigong students wondered, "Will Quanyin Buddha be willing to cross the Pacific Ocean to settle in California?" Now, the signal seems to point to Oceanside, CA, a coastal city half an hour north of San Diego and only a little more than one hour south of Los Angeles.

Qigong Master Qinyin, who received her complete Buddhist, Taoist and Tibet training in China, has a special affinity to Quanyin Buddha. A significant part of Qinyin's new energy healing system - Qinway Qigong, came from her mentor Abbess Huikong at Mt. Puto, home to Quanyin Buddha. Actually, the name "Qinyin" was given by Abbess Huikong, which literally means to "use the sound of truth to nourish the hearts of all sentient beings". In this way, Many of Qinyin's masters said that Qinyin has a mission to spread Modern Quanyin Methods.

Qigong is an ancient Chinese health science that works with energy through movements and meditation. After decades of intensive training and researches, Master Qinyin streamlined traditional Qigong into a set of simplified and modernized Qigong exercises with powerful healing and energizing effects - Qinway Qigong.

Qinway Qigong emphasizes the opening of energy channels between the human being and the universe (union of humanity and nature), which allows Qigong students to experience universal energy in just hours instead of months or years in traditional Qigong. Another specialty of Qinway Qigong is cleansing and detoxification. Fundamental causes of most diseases are various toxins in the body, due to bad diet or lifestyles. Qigong Master Qinyin has found out that simultaneous energy infusion and detoxification is the most efficient way to clear the body and renew cells. There are six major ways of detoxification in Qinway Qigong, which are spiritual, physical, informational, bigu, gasifying and supernatural. Qinway Qigong also encompasses the ancient Daoist rejuvenation technique of bigu, which is a special no-grain reduced diet to enhance profound cleansing.

Qigong Master Qinyin came to the US as an alien with extraordinary abilities in 1997, and has created many health miracles in the San Francisco bay area before moving her Qinway Qigong Institute to Oceanside, CA in August 2002. Her works has been featured extensively in the American media, including the prestigious Qi Journal, The Empty Vessel Magazine and The Kungfu Magazine.

Now Master Qinyin offers a variety of Qigong classes and retreat at Qinway Qigong Institute in Oceanside, CA. From time to time, there may be "Free Qigong Group Healing", where you can join to experience universal energy first hand. If you want to learn a simple set of Qigong workouts for daily practice, you are welcome to her three hour "Energy Recharge Qigong Workshop". For people who wish to get more involved for profound cleansing and rejuvenation, you may consider her 24 hour Qigong Retreat with a 9 day follow-up period. Want to help your family and friends? Special Abilities and Applications (I), (II) will teach and activate your special abilities diagnosis and Qigong healing techniques, such as palm, third eye and much more, and how to protect yourself as a Qigong healer.

Master Qinyin herself is a powerful Qigong healer. As early as a teenager, she accidentally found out that she could "dispel clouds to see the Sun". After decades of intensive Qigong training, her "heaven gate" became fully open so that she can receive universal signals and channel universal energy instantaneously. If you want to know what are the root causes of your health or spiritual problems, you may consider coming to Qigong Master Qinyin's Individual Health Consultation, where she will see your aura, scan organs and check your past live spiritual signals. For specific diseases, Qigong Master Qinyin uses advanced hands-off techniques to connect you with universal energy to remove toxins and blockages during Individual Qigong Healing Session. You may even invite Qigong Master Qinyin to your home for fengshui consultation, where she sees the Yin-Yang balance or imbalance and universal energy properties of your house.

Qigong Master Qinyin's vision is to build a Qigong school to share her Qigong healing and health techniques, and a temple to offer spiritual teachings in southern CA. Qigong master Qinyin has long been convinced that one's physical body is transient at best as compared with one's everlasting spirit. Ultimately, awakening and uplifting the spirit is more important and fundamental than simply healing the body. However, when the body is heavy and full of toxins, spiritual ascension is difficult to happen. Also there are probably more people looking for solutions to their health problems than for their spiritual growth. Hence, natural healing through universal energy becomes a convenient method - once people experience universal energy, they will start thinking about much more about the universe, humanity and enlightenment... This is also the way that Qigong Master Qinyin understands her "Modern Quanyin Mission" in America.

Last updated 08/19/07.