| | |
| --- | --- |
| | Enlightenment Holy Mission |
How to Get Enlightenment?
Achieving Enlightenment has the following necessary conditions.
(1) Body: Keep the body in a good condition before successfully achieving enlightenment. As the spirit succeeds in enlightenment, the body can turn into light accordingly. The body can come or go at will through the control of mind and the corresponding level of spiritual attainment.
(2) Mind: In a highly balanced state, peace and deep calmness/concentration like a flat lake for a long time.
(3) Spirit: Attain complete virtue, and be received by higher beings. Completely understand "causes and results", the origins of the universe and lives, and the transformation of whole body energy and spiritual codes to unite with the universe. Be free from the karmic force of rebirth, and transcend to the 4th dimension even up to 9th dimension.
Turn to Enlightenment Mission
After finishing a legendary First Ten Year Healing Mission (1996-2006), Qinway Grandmaster Foundation has moved from California to Honolulu, Hawaii (a balanced energy center of the Earth) to begin its second ten-year spiritual mission to establish a NEW Enlightenment System.In 2008 year,Qinway is coming to hold a stable & serene Signal system for a Smooth Turn to the Next Holy Mission of establishing an enlightenment ladder between the first and second holy mission. The necessity to establish a great new stabile management system that is both mature and aware of this delicate transition is important The great future of the enlightenment system depends on a successful development of this good management virtue and understanding, and a strong and stabile team.
Support to Holy Mission
Anyone who make outstanding significant contributions in establishing the New Enlightenment Temple unique holy buildings will plan a "blessing field" for his or her after-lives, and achieve high energy aura equivalent to 4-Dimension.
Anyone who actively support the New Enlightenment Temple in various means, such as volunteering, donation and other ways, will be permanently recorded in Qinway's Holy Mission Virtue Tablet.
Wish every human being achieve enlightenment.
Wish every Qinway supporter unlimited blessings.

You are welcome to,
(1) Become A Great Volunteer, special join virtue management board;
(2) Donate to the non-profit Qinway Grandmaster Foundation;
(3) Submit feasible proposal and suggestions with your personal involvement to 930@qinway.org.

Wish all karmic people achieve true Liberation and Enlightenment,

Grandmaster Qinyin

Written on 02/08/2008 in Hawaii
Read more about >> Qinway Qigong's First 10 Year Healing Mission

| | |
| --- | --- |
| | Qinway Grandmaster Foundation |
This is a dream - a dream that Grandmaster Qinyin has been struggling for a long time, a dream that many karmic Qinway supporters and students all have in the process of formation and development of the Qinway System, from deep Chinese mountains to the the capital of China, Beijing, San Francisco in America, San Diego, Los Angels and Hawaii...In this long journey, it has been the common dream of so many extraordinary supporters and outstanding students.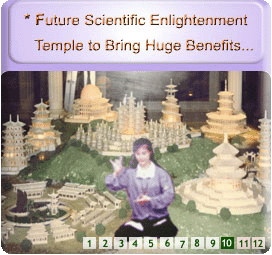 Qinway Grandmaster Foundation fixes this perfect dream at establishing a Non-Profit New Enlightenment Retreat Center. Its final goal completely matches with the holy mission from higher beings in the ten major directions, as well as the common earnest wish of countless human beings on Earth who will greatly benefit from the Qinway Super Human Science System.

Qinway Grandmaster Foundation will blend the love of the Heavenly Father and the compassionate power of Quanyin Buddha together, combine the five-thousand-year-old Chinese technology of energetic practice with the most advanced super human science, and condense them into a non-profit New Enlightenment Retreat Center to benefit humanity for generations to come, as shown in the above model and vision - whoever comes here can instantaneously be recharged with universal high energy.

As early as 1996 when the Qinway System was successfully born in Beijing after revolutionary transformations from the Purple Bamboo Qigong College in South China in 1991, the above blueprint of a non-profit New Enlightenment Retreat Center have been planned and envisioned. The above blueprint incorporates the essence of the ancient Chinese Taoist culture by condensing the universal high energy field through the Eight Tri gram buildings and Nine Palace Buildings. The building design of the Qinway New Enlightenment Retreat Center integrates outstanding considerations of time, space, directions, feng shui, geography and energy, which can prevent and avert any disaster, heal diseases and turn troubles into blessings.

Qinway New Enlightenment Retreat Center will be open and compatible with any religion. People who live, study, work or practice at Enlightenment Retreat Center can increase their wisdom and longevity. If they receive direct guidance from grandmaster, they will have a good chance to achieve physical immortality and spiritual enlightenment in this lifetime. The Enlightenment Retreat Center will also provide service to help spirits who have left their bodies uplift their spiritual energy to better dimensions, e.g. those souls perished during the tragic 9/11 event.
There will be many volunteers working at the New Enlightenment Retreat Center under an organized leadership and management team to provide health and spiritual programs and service for the body, mind and spirit for many karmic people. We sincerely wish and bless the early founding of the New Enlightenment Retreat Center, and sincerely hope karmic people with good understand support this truly beneficial cause through financial and human supports.
| | |
| --- | --- |
| | Phase II - Soul Healing Resort |
Grandmaster gathered intelligence and experience from heavenly and the human life, experience successively thousands of hardships and pressures and finally completed the design of unique special soul healing resort which can save millions of human beings.
Phase II special soul healing resort is on the basis of successfully verified Phase I through the first 10 year at the United States, further extensive and in-depth refining the mind, body and spirit energy and gradually entering the Enlightenment stable stage, this is a step by step method and at each step it can be verified and leading towards enlightenment program.
Phase II is characterized as a special optimized soul healing resort for body and mind stability (27 days and 108 days or depends on the karma), below is a general outline and introduction:
Special healing for the body energy refinement to open Wu:

High energy connection with universal channel
The personalized cleanness diet energy and the correspondence cooking method
The youth increasing wisdom method
The youth clear vision method and the prevention of near sight and treatment
Female merit ¡°Dan¡± qigong
The anti-aging qigong
Reduce weight qigong
Driver qigong
Heart treatment qigong
Lung treatment qigong
Kidney treatment qigong
Stomach treatment qigong
Liver treatment qigong
Daily measurements of your blood pressure and blood glucose, vision, and other indicators, Change! Change! Change!)
Characteristic Feng-shui energy arrangement
Eight Diagrams and Yi-Jing forecasting
Precepts and effects

Special healing for the mind energy refinement to open Wu:

The emotional trauma draining method
The spirit wound removal method
The brain function rehabilitation method
High energy connection with universal channel

Special healing for the spirit energy refinement and uplift to open Wu:

Explore the three previous life causes
Understand the six present life results
The wisdom flower blossom through "ding-li" practicing
Is Nirvana, the gold key leads to advanced super scientific Enlightenment. Obtain the golden key of achieving the enlightenment in this life

Superpower or Special Ability III:

Perak palm to remotely put out forest wildfires
Read his mind to remotely promote kind and suppress bad method

Construction of great virtue field by registering your Enlightenment account number
Open an account: donate money wisely, the great blessing covers Yin descendant
Participation: Enter your limited life into an infinite virtue world
Interest dividends: Germination the lotus seed, harvest the best fruit
Virtue-clear the spiritual fog: Give away big, Gain big. with discipline & strong will comes the wisdom viewpoint and Ding-li (never turn back discipline)Give away big, Gain big. The viewpoint and Ding-li never turned back

The successful rate of physical and mental rehabilitation is 96% for the students being approved to attend the Phase II, after the mind and body treatment;
And sowing the seeds of wisdom will inspire the upper root for insight in this life; lower-roots wisdom will grow rapidly; this is a personalized, long-term, and stable field to set up the soul growth effectiveness. A good analogy (imagine) this program is like a securing a first row seat on the fastest space shuttle to enlightenment.
Annotation:
1) Depend on the karma, the above mentioned courses may be adjusted.
2) Phase I and phase III may be added into the contents as well, as appropriate, will be determined.