Goji Vital Tea Beyond the Berries!
Now that I have used the Goji Vital Tea for several months, I can give a fuller report. The most noticeable effect has been with my eyes. I have an inherent problem with my eyes, which the Qigong has helped considerably. Still, the many hours that I spend per day on the computer makes my eyes fatigued and gritty feeling, but the Goji Vital Tea always provides relief. I've noticed a positive difference in the plants, especially a couple that were declining in vitality. The tea also helps my own vitality, while imparting a calming and centering feeling at the same time. - John G. (CA)
Famous and treasured in China and Tibet for centuries, the renown of healthful Goji berries is becoming more and more widespread throughout the world and especially in America. Goji berries and juice are now a staple in health oriented stores.
But there's more to Goji than just the berries!
Naturally the famous, potently healthful Goji berries are a prime ingredient in our Goji Vital Tea. However, there's much more to it than that. The entire Goji plant is a natural pharmacy of potent nutrients and hard to obtain special health boosters.
Although it is more difficult and expensive to incorporate all of the essential parts of the Goji plant in our tea, we do it because we are committed to offering the most potently healthful, vital tea that we can possibly deliver. Unlike some Goji berry products, we do not dilute our product with more inexpensive additives. The tradition in China and Tibet is to use Goji in its most powerful, unadulterated form and we honor and continue this practice for optimum effect. We are able to offer a 100% Goji premium tea that is value priced yet delivers incredible benefits for a small cost per day.
Grandmaster Qinyin travels to the highlands of the Tibet-Qinghai Plateau to insure delivery of the best organic Goji ingredients for our tea to validate that it carries a high enough natural energy to fully accept the imprint of her high frequency life force energy generated through specially developed, science attested Qigong (Vital Energy Work) abilities.
This special higher life-force energy imprint is applied to the tea by Grandmaster Qinyin throughout the manufacturing and delivery process and becomes an essential part of our tea's ability to deliver its powerful vital health benefits. One teabag may be re-used throughout the day to deliver the nutrients and high energy signal. Consistent enjoyment will naturally help attain and maintain a vital and healthy level of mind, body and spirit.
Health Benefits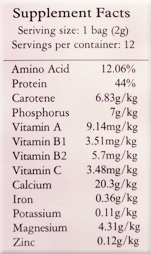 Goji is a health treasure that has been known for thousands of years in China. It can nourish the lungs, clear the liver, adjust the stomach, strengthen the kidneys, brighten the eyes, beautify the skin, and reverse aging.
Modern researches have proven that Goji can reduce high blood pressure and improve the immune system, in addition to its great antioxidant and anti-aging qualities, Experiments have shown that Goji Vital Tea can effectively neutralize the body's acidity towards a healthy alkalinity of (PH 7.3); especially after regular drinking for a month. Read more research




Did you know that Grandmaster personally inspected the 9000 ft elevation Goji fields herself in the deep Tibetan Himalayan Mtns. for organic purity and signal quality?

Did you know that experiments have shown that Vital Goji Tea can neutralize the bodies acidity and create a healthy alkaline balance?
Did you know that overly acidic human bodies are considered to provide conditions conducive to cancer development?
Did you know that Goji can reduce high blood pressure and strengthen the immune system?
Did you know that when you combine all that with Grandmaster's unique energy signal that you have the most powerful healing tea on the planet in your hands?
Did you know that you can use the same Vital Goqi Tea bag all day

Read more about great Testimonials

* Note: These statements have not been evaluated by the Food and Drug Administration. This tea is not intended to diagnose, treat, cure or prevent any diseases.
Ingredients
Organic Goji Leaves, fruits, stems, and roots from the pristine Qinghai-Tibet Plateau. No caffeine. No preservatives. Universal high energy infused by Grandmaster Qinyin. Learn more

Directions
Use hot or lukewarm water to make multiple cups until the taste becomes light. You may add ice for taste. You may add its broth into dishes to help people with different body types. Store in dry cool places. Keep refrigerated once open.

You may drink Goji Vital Tea along with Yin-Yang Healing Tea, which would further increase their healing powers and functions. You shall follow the same number of sips for Yin-Yang Healing Tea.

Order

Retail Price: $10.98/box. Each box contains 12 tea bags and a net weight of 24g.

Wholesale Price: Great wholesale price at $6.48 starting from only 970 boxes. (larger volume quotes available. (Shipping on wholesale orders-added to total cost @ time of order-intl orders may be extra) (allow 8-12 weeks for shipping)

Shipping & Handling inside US: 10%, min $8.95 max $15.

Shipping & Handling outside US: 20%, min $15, max $50.

Return Policy: Being consumable, they are non-returnable.

Order: The most convenient way is to order through our secure online shopping cart below (Visa, Master Card only. Corporate or non-US-based credit cards may be charged 1.37% additional processing fee paid to Visa or Master Card companies). You may also e-mail us at 930@qinway.org. We also accept Check and money order. There is a $25 processing fee for each bounced check.