The Energized Signal Procedure of Energy Infusion and Detoxification

(also known as "Technical Procedure") is the Focus of Qinway Technology.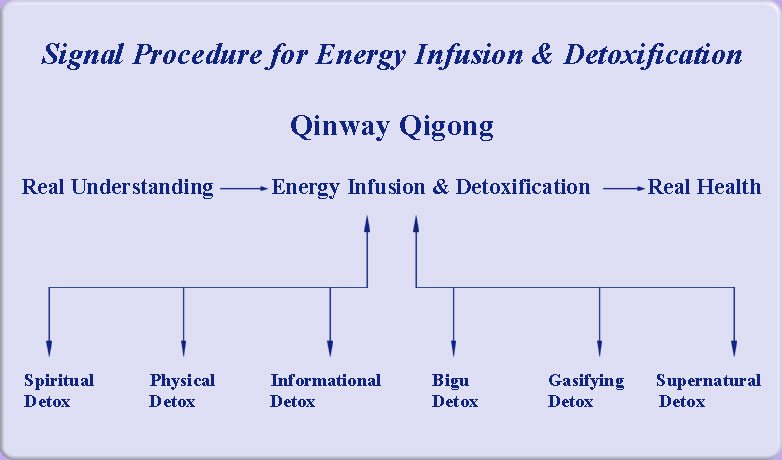 As shown in the above chart, the Qinway Qigong Technical Procedure starts from "Real Understanding", which has very much to do with "changing your mind", followed by the process of "Energy Infusion & Detoxification". An effective combination of both is the key. This combination results in "Real Health", including physical and spiritual health. Specifically, the process of energy infusion and detoxification through Qigong includes the following:


| | |
| --- | --- |
| Spiritual Detoxification | We achieve true health only through purifying our hearts and souls from negative emotions and balancing our mind so that it is serene. More importantly, 90% of diseases are caused by spiritual code problems carried over from past lives. |
| Physical Detoxification | This is needed to facilitate the detoxifying process inside our bodies by drinking energizing-and-detoxifying Yin-Yang Healing Tea and other methods of Qinway Qigong. |
| Informational Detox | It is important to correct some unhealthy information that happened to be reflected upon you through Qigong. |
| Bigu Detoxification | Through Qigong and bigu (energized-fasting), which means that you become "too Qi-filled to eat", you can achieve ideal human detoxification and energy-infusion effects. |
| Gasifying (Purifying) Detox | This process turns metabolic waste products and toxins inside our bodies into gas and thus evaporates them through Qigong. |
| Supernatural Detox | By appealing to universal high energy, and opening up human acupuncture points, we can effectively activate the Human Spiritual System for detoxification through Qigong. |

Energy Infusion

By opening up the energy channels between the human being and the universe through Qigong, high energy can be received directly from the universe. "Energy infusion" has the following characteristics in the Qinway Qigong system.

1.
T
his pure advanced energy can be used to substitute the coarse energy from junk food. You can use healthy and clean food as a healing tool under Qigong Master Qinyin's individual directions.
2. The opening of the energy channels between the human being and the universe through Qigong saves a lot of time in achieving energy infusion. You can achieve the state of energized-fasting almost immediately, which used to take at least ten years of devoted Qigong training.
3. Qinway Qigong system offers an advanced integrated program that can save you a lot of time and expense for Qigong training. You will go straight in your Qigong training, instead of many detours. You will be able to achieve your goal with unexpected benefits. Your success in the Special Ability Rejuvenation 3.2D Retreat is 100% guaranteed, as long as you follow Qigong Master's directions.
4. Qinway Qigong system emphasizes individual instructions over group teaching, featuring the adjustment of the individual's past lives' code, qi field, color of clothes, places to go or avoid, fengshui and more.
5. Qigong Master Qinyin use invisible energy infusion to open the energy channels for students. For example, almost all students can feel energy transmission from the Yin-Yang Healing Tea, Goji Energy Tea, Energized Objects or Energized Healing Foods.

Detoxification

You take a shower everyday, but have you paid attention to take "real internal showers"? The Qinway Qigong System uses natural methods (not depending on medicine or surgery) to detoxify the body and spirit. Energy infusion builds up a strong pressure of vital Qi in the body that pushes toxins out. The cleansing process can go deeper and deeper as long as there is sufficient vital energy in the body. Ways of detoxification differ from person to person, and vary from time to time for the same person.