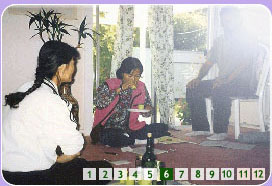 Fremont, Northern California, 2001.
Chimin is a professional nurse who lives in Oakland.
She had attended Qinway's Fundamental Healing Retreat (24 hours, the only retreat offered then) and monthly Full Moon Classes.
She first came to Qinway with many Buddhist beads on her neck.
According to her, she had been on a spiritual path for over two decades.
She had tried almost all energy methods and spiritual practices available on the market.
Yet she was still diligently looking for new and true methods, especially for the purpose of verification.
She felt Qinway techniques were very practical and useful.
In particular, she had a deep experience with the great power of Qinway "energy infusion and detoxification" for the body and soul.
Then she referred her sister in Florida to attend Qinway Retreat as well.
Half a year later, she brought her mother from Taipei (Taiwan) to California specifically to attend Qinway Retreat.
"This is my best gift for my mother's longevity," Chimin smiled.
She often came to Qinway Center to volunteer, although sometimes it took more than one hour to drive from Oakland to Fremont under traffic.
One day, Chimin asked Grandmaster Qinyin, "As a nurse, when I take care of my patients with medication and shots, I often feel their pain. Are there better methods to help them?"
"Sure," Grandmaster said. "You could use 'Invisible Wuji Needle' to replace shots so that patients won't feel the pain, and the results are still great. Also, you may use natural foods as medicine after their material properties are changed."
"Really?" Chimin wanted to learn from Grandmaster.
One month later, Grandmaster Qinyin offered Special Ability Training Level I and Level II.
During these two classes, Grandmaster taught a series of methods for special ability diagnosis and healing others.
A unique characteristic of these classes is the activation and verification of special abilities right on the spot.

Included in these classes is "Invisible Wuji Needle" (left picture) that Grandmaster channeled from universal higher dimension to retreat students as special karmic gifts.
Another month later, Grandmaster offered another Special Ability Training, which included teaching the super method of changing some objects' material properties, such as changing the smell of cigarettes and the taste of wine.
That day, there were a few bottles of wine fresh from store on the classroom carpet!
After opening and pouring into cups, each student got a sample of the original wine taste.
"Please remember the taste of wine from this bottle," Grandmaster cautioned.
Grandmaster then took back the cup of wine from Chimin's hand (which had already been tasted by students), and got into a special "connection" state.
One minute later, "Please taste again!"
"Wow! The taste is so different now!"
"It became much more fragrant and sweet."
"Have you understood?" Grandmaster said.
A few students nodded their heads as if they had gained some understanding.
"Why was the taste of wine changed?" Grandmaster asked.
"It was initiated with high energy!" A student replied.
A week later, Chimin came back with exciting positive feedbacks from her patients when she used "Invisible Wuji Needle" to work on their spines.
Her patients reported significant improvements, and felt very comfortable when "Invisible Wuji Needle" was on their spines!